Studies show that average students learn better with old-fashioned paper textbooks. Nevertheless we recognize there are times when an ebook is needed, such as international distribution, requirements from schools, and where reading ability is challenged.
All Novare Science & Math textbooks are now available in E-book form through VitalSource using their free Bookshelf application. VitalSource is one of the top ebook platforms in the world, used primarily in university contexts.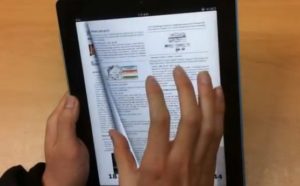 Bookshelf works on Mac and PC, Android, Kindle and iPhone platforms. You can also view books through a standard browser without installing the app. Standard ebook features are available such as
highlighting
sticky notes
bookmarks
read-aloud mode (Note: some older computer systems may not support read-aloud)
You can activate up to three devices on which to read your book.
How does it work?
Purchase your book from our online catalog. Specify 1 or 5 year license. (For other durations, please call.)
Once your order is processed (usually within 1 business day), we will send you a license key by email. (The license will give you access to the ebook for exactly 1 year (or 5) from the date the key is issued.)
Go to the VitalSource website and create an account.
Download and install the "Bookshelf" app for your computer or mobile device. On the main screen or Library page, click the "Redeem" button in the upper right corner. Alternately, you can access your book through your browser.
In the menus, select Redeem Code.
Our ebooks range in price from $30 to $42 for a single-year license. And 5-year licenses are still less than the cost of the hardcover book.